Alloy Wheel Repair Long Island NY
When it comes to alloy wheel repair in Long Island, NY, nobody does it like our experts from Rallye Collision Center. We breathe new life into worn-out, rusted, broken, or damage wheels with a unique process that restores wheels to like-new condition. If you're thinking about a replacement, consider the savings you will experience when you choose our collision center for repairs instead. Our techs are certified to work on luxury vehicles, especially BMW, Mercedes, Lexus, and Acura models.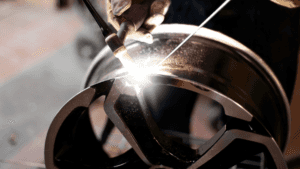 What Are the Benefits of Wheel Repair?
Aside from the significant savings, you'll enjoy many perks when you choose to repair your wheels:
Beautiful wheels make your whole car look great
Affordable wheel repair can remove years of wear from your vehicle
No one will suspect your car's wheels were repaired (Rallye techs are that good)
A small investment can pay big dividends if you plan to sell your vehicle
Restored wheels make your journey safer
You may not pass a vehicle inspection with broken or damaged wheels
Do I Need to Repair My Car's Wheels?
Your vehicle's wheels take the brunt of the road wear, picking up dings and dents from rocks and pebbles, salt and gravel during winter travel, and many other chemicals that splatter up from parking lots and roadways. If you live in the city or frequently park in town, you've probably noticed curb rash on the sides of your wheels. Over time, wheels can begin to look old, long before their time. While it's easy to ignore problems that look on the surface as though they are only cosmetic issues, the fact is your car's wheels are an essential element to safe driving. If you notice pitting, rusting, gouges, or other damage, Rallye Collision Center can help.
Timely Repairs
At Rallye, we know our customers can't afford significant downtime with their vehicles, which is why we are committed to getting your vehicle in and out quickly, without compromising on the quality of repairs. We offer the most efficient alloy wheel repair in Long Island, NY, regardless of what make or model of vehicle you drive. Our shop and technicians are certified to work on elite cars, so you can rest easy turning your car over to our experts for a repair. Our collision center has earned a reputation for delivering exceptional quality work at an affordable cost.
Schedule an Inspection
Drive into Rallye Collision Center to have your car's wheels inspected by a professional and we will let you know the extent of the damage you're driving on and what it will cost to restore rims & wheels to showroom condition. If the damage is only superficial, your entire wheel may not need to be repaired; we also offer rim repairs and restorations for cosmetic purposes. Find out how much you can save on an alloy wheel repair in Long Island, NY when you stop in to see us at Rallye Collision Center, the vehicle repair experts of the tri-state area.