Dent Removal Long Island NY
After a collision, you may be searching for a reputable auto body shop for dent removal in Long Island, NY. Choose Rallye Collision Center when results matter. We're experts in paintless dent repair that removes dents without the need to match-up paint, so results are flawless. Let our pros take a look at your vehicle's damage and let you know whether our paintless process will work for your dents. We take a great deal of pride in providing our customers with exceptional results, so you'll never even know your vehicle was in a fender bender.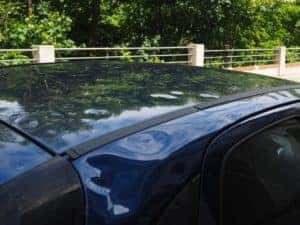 What is Paintless Dent Removal?
The process of paintless dent removal had been around for decades; however, not all body shops have perfected the process; that's why it's so important to choose a shop with a great reputation within your community. At Rallye Collision Center, we've mastered the art of removing dents by investing in some of the best equipment available. Our technicians are trained to quickly and accurately assess damage to your vehicle at an expert level, so we can let you know immediately whether you'll benefit from our paintless dent removal. If the damage does not qualify, we can also offer a traditional repair.
What Are the Benefits of Paintless Dent Removal?
The most significant difference between the paintless process and the conventional process is the cost. Using paintless dent removal, you'll pay a fraction of the cost of what other methods would cost you, so it's highly beneficial to seek out a body shop offering paintless dent removal when looking in Long Island, NY. Before you choose any other auto body shop, give us a call at Rallye Collision Center to find out how much money we can save you while restoring your vehicle to pre-accident condition. Additional benefits include:
Saving time, since the process is much faster compared to conventional methods
No negative impact on the environment, so it's a greener option.
Access to Rallye Collision Center's experienced techs & breathtaking service.
Peace of mind that the job will be completed on-time and at a high quality.
Affordable Dent Removal in Long Island, NY
Whichever method you choose from removing dents and dings, you can count on our team from Rallye Collision Center to deliver results that exceed your expectations. After an accident, it's only natural that you would want your vehicle restored; choose us for affordability and multiple options to help you achieve your goals. We know you might have a number of options when searching for a shop that offers dent removal in Long Island, NY. We are the best choice for overall value, quality, and excellent customer experience.
Bring your vehicle into Rallye Collision Center and have our experts take a look at the extent of the damage. We'll provide you with a cost estimate, help you understand your options for repair, and recommend the best repair method to remove dents and restore your automobile. We've earned a reputation throughout Long Island for excellence in service from start to finish.
alloy wheel repair long island ny auto repair roslyn ny bmw certified repair shop long island ny bmw repair long island ny body shop queens ny car restoration long island ny mercedes benz certified repair shop nassau county ny paintless dent repair long island ny rim repair long island ny