Rim Repair Long Island NY
Looking for the best rim repair in Long Island, NY? At Rallye Collision Center, we'll save you money with the most exceptional services that deliver value in terms of cost savings and quality workmanship. If you're thinking about replacing broken, rusty, or old rims, consider rim repair at the hands of our expert technicians. Repairs cost a fraction of what you will pay for rim replacement and can restore your vehicle's rims to like-new condition in less time than you may think.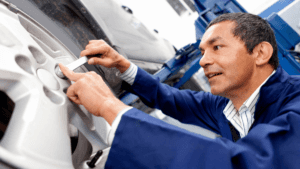 Can My Car Rims Be Repaired?
In most cases, rims can be wholly restored without the need to replace them. At Rallye Collision Center, we repair the following types of damaged rims:
Curb rash & rim scratches
Rust & metal pitting
Broken rims
Metal gouges
Dents in rims
Remember how your vehicle's rims looked right after you drove it home for the first time? Rallye Collision Center can make them look that good again, with our factory-finish repair process. Schedule your rim repair in Long Island, NY when you call our office or book through the Rallye website.
What Type of Rim Damage Can't Be Repaired?
Our expert techs at Rallye Collision Center can repair just about any type of damage to your vehicle's rims. Rims can get pretty beat up just in the normal course of driving and damaged rims can make your vehicle look old or worn out. An inexpensive rim repair can do wonders for the appearance of your vehicle. If you plan on putting your vehicle up for sale, newly restored rims can result in a higher selling price. Drive in and speak with our team about an affordable rim repair in Long Island, NY. You'll love how a simple rim restoration can take years of wear off of the look of your car.
Rims vs. Wheels
Many people use the terms rim and wheel interchangeably, but the fact is they are not the same. The rims are the outer portion of the wheel that hold the tire. Keep your rims in good repair to avoid issues while driving and prolong the lifespan of your vehicle's tires. Broken, dented, rusted, and damaged rims can lead to more costly repairs and unsafe driving conditions, especially at high speeds. You'll find Rallye Collision Center's pros are experts in repairing and restoring rims. Why not stop in when you're in the area to find out about our repair services?
Affordable Wheel & Rim Repair
We specialize in working on high-end vehicles in Long Island, including BMW Mercedes-Benz, Lexus, and Acura models. Reach out to our collision center by phone if you have questions or wish to schedule service to your vehicle. We can provide a fast & free estimate for your rim repair in Long Island when you click the 'Services' link, select 'Wheel & Rim Repair', and click on the 'Get Estimate' button. No other repair shop in the area can deliver the same consistent, value-driven services as our team at Rallye Collision Center.
alloy wheel repair long island ny auto repair roslyn ny bmw certified repair shop long island ny bmw repair long island ny body shop queens ny car restoration long island ny dent removal long island Mercedes benz certified repair shop nassau county ny paintless dent repair long island ny